Pr 11 Raw Long Grain Rice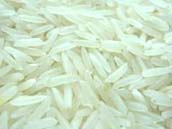 Pr 11 Raw Long Grain Rice is known for its good taste, long grain size and dietary fiber enriched content. Its moisture level is below 14% and it has maximum 5% broken grains. Free from paddy grains and all sorts of foreign matters, this organically grown rice is appreciated for its gluten free content. Easy to digest, Pr 11 Raw Long Grain Rice has 6.9 mm average grain length. Non sticky grains post cooking, short preparation duration, fine quality and competitive price are the key aspects of this rice.
Click to add this item to cart.